Ways to improve recovery during the working day in remote and in-office work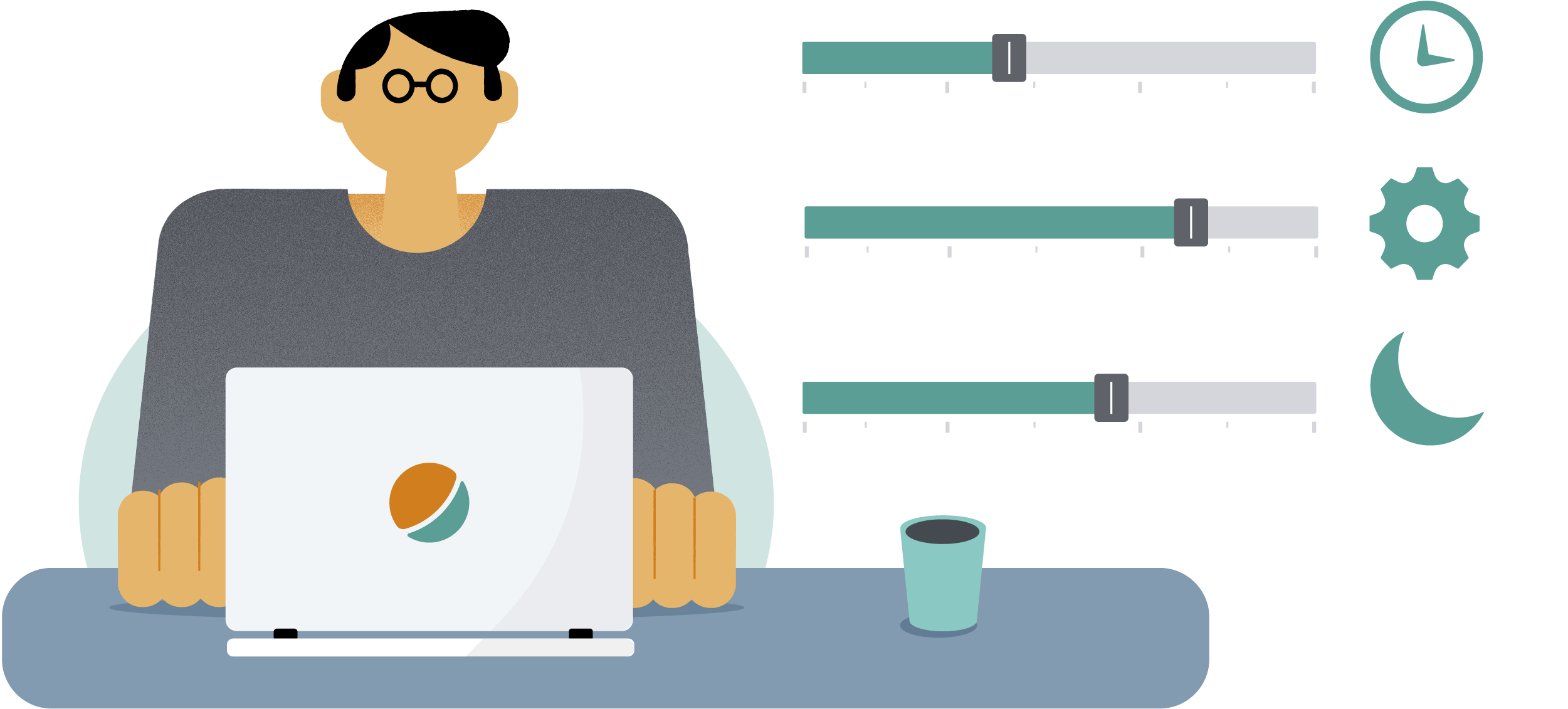 Objective
Work will always cause some stress. The stress related to different work tasks and occupations vary. It is essential that employees are able to recover from their workload on a daily basis. The central objective of recovering from work is to manage stress in a way that prevents occupational burnout and illness at work in the long term.
Steps
Recovery from work can be promoted in many ways.
Consider in the work community what kind of requirements and effects your own work has on health and how the workplace can encourage healthy lifestyles that promote recovery. Successful development can be facilitated by goals and measures that the work community agrees together to take towards better recovery.
Evaluate and identify what exactly the stress factors in your work are, what measures there already are in place to reduce them, and what you can do to promote better recovery.
Evaluate the recovery methods already in use according to the areas below. Then choose suitable measures as development target for your work community.
Tips for the work community to promote recovery from work in Finnish: "Off we go! – Health at workplaces" guidelines
Please also see the guidelines for supporting remote work. They are meant as a checklist for organizing remote work and they are intended for employers, supervisors and employees.
Work environment in-office and at home
Working in a safe and accessible work environment is pleasant and smooth. Such a work environment prevents injuries and allows changing your posture and provides sufficient space to work.
Discuss the functionality of the employee's work environment in terms of work performance (space, desk, chair, lighting, sound environment).
Consider the possibility of allowing employees to temporarily take home ergonomic tools and furniture (such as an adjustable chair, a separate screen and a keyboard).
Suitable temperature, sound conditions and lighting affect the comfort of the work environment and the efficiency of work.
Ergonomic furniture and tools allow maintaining a balanced and supported posture. They also enable changing postures and moving around.
At home, a separate office or workstation facilitates the separation of work and leisure time, detaching from work and recovery.
Features of the workspace, such as a window view or picture of nature contribute to recovery during the working day.
At home, one way to help you detach from work and support recovery is to move work equipment and work-related materials out of sight during free time.
Cognitive ergonomics
The cognitive load related to brain work and information-intensive work can be reduced by focusing on one task at a time and minimizing interruptions and distractions during work.
A clear calendar helps to organize work so that demanding tasks are carried out when the employee is at their most alert.
Calendar entries can be used to set aside time for individual tasks and co-operation that requires concentration, as well as restorative breaks.
Interruptions can be reduced by silencing alerts from e-mail and other communication channels and by agreeing on quiet working hours during which no one disturbs their colleagues.
Meeting practices
Agree on the number, duration and timing of joint meetings so that breaks between work tasks and meetings are possible.
Reserve sufficient working time for work tasks other than meetings. Your entire working time should not be filled with meetings.
Use a shared electronic calendar. It allows maintaining rhythm in your meetings.
Agree rules for being available and unavailable.
Communicate your availability by means such as applications' status messages and updating the shared calendar.
Agree on times when no meetings are scheduled, such as lunch breaks.
Agree on ways to introduce "porosity" into working days to ensure that days do not turn into an uninterrupted chain of meetings. One way to do this is to schedule meetings of 45 or 90 minutes, or always starting at quarter past, rather than hourly. You can agree on breaks during long meetings.
Reserve time for transitions and breaks that support recovery during the working day.
During the meeting, it is advisable to change your posture, move around and stand up in order to help maintain alertness.
Work breaks
There are agreed times for lunch breaks and possible coffee breaks in-office. It is also worth sticking to them when working remotely. Breaks allow us to momentarily detach from work matters and to recover.
According to the Working Hours Act, an employee must be provided at least thirty minutes of rest for every six-hour working day.
When working remotely, you can schedule your food and coffee breaks as flexibly as you wish.
Breaks also allow spending time together and talking about matters other than work. Communality is a resource for any organization and we invest in interaction and co-operation.
Short micro breaks of less than five minutes during the working day promote recovery from work.
The workplace has a cosy space for meals and breaks during working time, with a water point, a fridge and a microwave oven, as well as dishes for storing food and eating at work.
When working remotely, lunch and coffee breaks can be taken at home or at a nearby restaurant or cafe, if possible.
When working remotely, it is useful to work and take your food breaks in separate locations, if possible. This means not eating in front of the computer, for example
Walking or cycling somewhere else to have lunch can help in detaching from work, and aid in recovery.
Moving in nature for your breaks during the working day helps with recovery. For example, a 20-minute walk outside slows down the heart rate and lowers blood pressure.
In computer work, you can rest your eyes and vision by looking far away, for example at the view that opens out of the window.
Exercise at work
Exercise helps you recover and cope at work. Encourage exercise while commuting and during breaks – even when working remotely.
The workplace has showers and dressing facilities that enable exercising while commuting. The workplace has exercise equipment available that you can borrow for exercise breaks such as gymnastics sticks, rubber bands and dumbbells.
Favour walking meetings when possible.
Try to reduce sitting by changing your posture.
As an employer, offer an application for exercise during breaks, which can also be used in remote work during the working day.
Use free materials and campaigns to encourage healthy lifestyles such as not smoking, healthy eating and all kinds of physical activity during the working day and leisure time.
Impact follow-up
Try new practices to improve recovery for an agreed period of time. After the trial period, evaluate the new practices together with the personnel and make decisions about the future.
Individual changes in recovery can be assessed using the following question (before and after development projects): Do you recover from the stress of the working day before the next working day? (0=not at all, 10=fully)